The Capital of the Alps and its holiday villages

Think imperial monuments and contemporary urban design. Olympic records and opulent past splendour. Open to the world and rich in traditions, the Tyrolean capital has always been a city of many faces.
Steeped in centuries of colourful history, Innsbruck features a range of fine examples of Imperial splendour bestowed on the town by numerous Habsburg rulers with a penchant for architecture and creative arts. Some of the town's most significant monuments date back to the late 15th century, marking the early heydays of the Austrian monarchy. Visitors are taken on a journey back in time with an enchanting array of splendid architectural gems from the Gothic, Renaissance, Baroque and Neo-Classical period. Historical landmarks such as the Golden Roof, the Court Church with its stunning bronze statues, the Imperial Palace and Ambras Castle evoke the grandeur of the Habsburg empire's bygone greatness. But Innsbruck scores also with visionary urban design to make any modern architecture enthusiast's heart beat faster – for example Heinz Tesar's inspired BTV Stadtforum, or the spectacular Bergisel Ski Jump Stadium created by Zaha Hadid. 
Boasting state-of-the-art competition venues, Innsbruck also plays a significant role as a major international sports hub located in the heart of the Alps. Having played host to Olympic Winter Games on two occasions already (1964 and 1976), Innsbruck was also the venue for the inaugural 2012 Winter Youth Olympic Games. Keeping its finger on the pulse of the times, Innsbruck offers a vibrant blend of cultural treasures and lofty heights, high heels and hiking boots, Baroque opera and jaunty marching bands.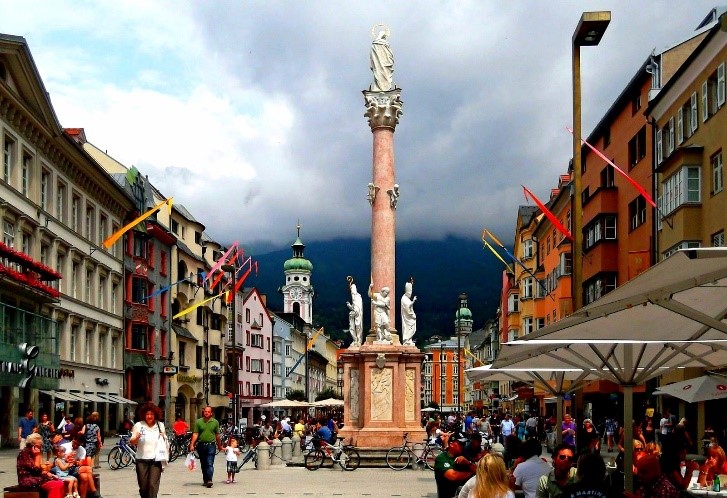 * 3 nights  in hotel 3* / 4*
* Buffet breakfast daily
* 48-hour Innsbruck Card (discounts/free transportation)
[pt_view id="81afb3cv0l"]
SOFIA TRAVEL FZE
CREATIVE TOWER
P.O. BOX 4422
FUJAIRAH – UNITED ARAB EMIRATES
OPENING HOURS: Monday to Sunday